Welcome to Shave The Donkey's shop.
While we don't want to be a commercial site, buying books & CD's from Amazon will give us a little commission to help off-set the costs of running Shave The Donkey. And it's fun for us to look up & see what's available for you to buy! However, we are impartial - if we find a limited edition item or something that's not available via Amazon, we will give you the contact details.
A wonderful story of one mans journey to find his roots


Ashley's Morris On album - it's grand, son
Ashley Hutchings and Friends
TECD038

Ashley Hutchings created a folk phenomenon with the legendary Morris On album in 1972. Son Of Morris On followed in the Eighties and now, thirty years after the original caused a new wave of enthusiasm for the dance, Ashley Hutchings and friends have brought out the third in the series. The Donkey has heard it and it's exciting stuff.



English Customs and Traditions
Collected by Peter Kennedy
CD-SDL 425 (CD)/CSDL 425 (MC) 66 mins



Helston Furry Dance & Hal-an-tow, Padstow Hobby Horse, Castleton Oak-Apple/Garland Day, Bampton Morris Dancing, Abbots Bromley Horn Dance, Wassailing, Antrobus Soul Cakers (mummers), John Barleycorn, Cherry Tree Carol, Lazarus and other ritual songs and carols, all captured on tape over many years by folklorist and collector Peter Kennedy. With full notes and texts on the meanings of these rites.
Kemp's jiggers get between the covers...
This year's re-enactment of Will Kemp's jig from London to Norwich is now the subject of a book - written on the move. "Dr Uid" of Golden Star Morris has sent the Donkey a brief note:

Julie alias the scribe who recorded the re-enactment of Kemp's jig this year (I only played the box and walked for the whole route) has indeed got the record published! It is an excellent read and funny to boot.

It has not been amended by the publishers at all as it was done on the hoof into a Dictaphone and only tidied up for readability's sake. So it has the rhythm of the music and the dance woven into the text. It is also very cheap (there is no money in morris, is there?) at 5 Pounds post free (UK).

Email Dr Uid or send your cheque payable to Julie McKenzie, to


The Scribe
Golden Star Morris
1 Joy Avenue
Newton Flotman
Norwich
NR15 1RD
UK The English Mumming Play: an introductory bibliography
by Eddie Cass, Michael J.Preston and Paul Smith
CD- British Light Music Discoveries 2
Royal Ballet Sinfonia, Gavin Sutherland
ARNOLD: Little Suite No.4 / BLEZARD: The River / BUTTERWORTH: The Path Across the Moors / CRUFT: Traditional Hornpipe Suite / FENBY: Rossini on Ilkla Moor - Overture / HEDGES: An Ayrshire Serenade / LANE: Suite of Cotswold Folk Dances / LEWIS: An English Overture / WARREN: Wexford Bells - Suite on Old Irish Tunes.
Nine composers are 'discovered', the best-known being Sir Malcolm Arnold, whose sparkling Little Suite No.4 is heard in orchestral guise for the first time. The oldest is Eric Fenby, forever associated with Delius as amanuensis. His witty Rossini on Ilkla Moor transforms the Yorkshire folksong On Ilkla Moor Baht 'At into a Rossinian overture (Arthur Butterworth's The Path Across the Moor inhabits the same Northern landscape). Indeed the spirit of traditional music pervades much of the programme, including as it does Adrian Croft's Traditional Hornpipe Suite, Raymond Warren's suite on old Irish tunes Wexford Bells, and producer Philip Lane's own Morris dance-inspired Suite of Cotswold Folk Dances, composed for Stroud Festival in 1978. Folk songs from the west of England also crop up in Paul Lewis' An English Overture, written for Westward TV. Contrast is provided by William Blezard's evocation of a gently running stream The River, and Anthony Hedges' attractively Scottish An Ayrshire Serenade.

A Dictionary of English Folklore
by Jacqueline Simpson and Steve Roud

Are there any legends about cats? Is Cinderella an English story? What is (or was) a Mumming Play? The subject of folklore covers an extremely wide field, with connections to virtually every aspect of life. It ranges from the bizarre to the seemingly mundane. Similarly, folklore is as much a feature of the modern technological age as the ancient world, of every part of the country, both urban and rural, and of every age group and occupation. Containing 2000 entries, from dragons to Mother Goose, May Day to Michaelmas, this reference work is an absorbing and entertaining guide to English folklore. Aimed at a broad general readership, the dictionary provides an authoritative reference source on such legendary characters as the Babes in the Wood, Jack the Giant Killer and Robin Hood, and gives entertaining and informative explanations of a wide range of subjects in folklore, from nosebleeds and wishbones to cats and hot cross buns.

Pipe and Tabor Book
by Richard Humphries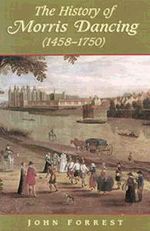 The History of Morris Dancing 1483-1750 (paperback)
The History of Morris Dancing 1483-1750 (hardback)
by John Forrest
Wow. I've just received my copy of this, and it's wonderful. Every one who has the slightest interest in Morris should buy it. MR


Jack-in-The-Green (CD)
by Magpie Lane

The Gift (CD)
by Chris Leslie (Fairport Convention & Adderbury Morris)
The Imagined Village
by Georgina Boyes
"A fiercely critical assessment of the english folk revival, with substantial morris content. Read how Percy Grainger hid under a bed to record a song while an accomplice tricked a reluctant folk singer into performing it."
"A rumbustious piece of academic muck-raking "SP


Truculent Rustics
by Elaine Bradtke

What is Molly dancing? Where did it come from? Who performed it and why? What did it look like? And where did the name come from? These are just some of the questions addressed in Truculent Rustics. Although it has undergone a revival in the past twenty years, the history of this little-known display dance form is not well documented.
This publication is intended to fill that gap. Molly dancing developed from the amalgamation of Plough Monday celebrations with other customary modes of community expression. The result was a boisterous celebration that combined intimidation with performance. Riots, rough music, house-to-house alms-seeking, Christmastime misrule and the traditional use of disguise are discussed in their role as antecedents. The text is followed by an appendix listing Molly dancers by their home village with brief descriptive notes concerning their appearance and performance.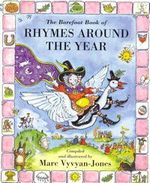 Barefoot Book of Rhymes Around the Year
by Marc Vyvyan-Jones
A wonderful collection of Nursery Rhymes, scattered with Marc's delightful drawings. Plenty of drawings of Morris Dancers (can you identify the individuals?) and also a Mummers Play script.
While aimed at younger people, I have found this books has appeal for all ages (I bought 3 copies on the day it was launched!) MR
Alternitively, rather than buying from Amazon, you may like to buy direct from Marc Vyvyan-Jones. He will personally dedicate each book (send a photo & he'll draw you in cartoon form). Details from this WWW page


The Stations of the Sun
by Ron Hutton
This study covers the whole sweep of history from the earliest written records to the present day. From May Day revels and Midsummer Fires, to Harvest Home, Hallowe'en and the twelve days of Christmas, Ronald Hutton takes us on a journey through the ritual year in Britain. Seeking to challenge many common assumptions about the customs of the past and debunk many myths surrounding festivals of the present, this text illuminates the history of the calendar we live by today.


CD: Rattlebone and Ploughjack
by Ashley Hutchings

Morris Dancing in the English South Midlands, 1660-1900
by Keith Chandler


Sword Dancing in Europe : A History
by Stephen D Corrsin
One of the most dramatic styles of folk dance performance in Europe still practised today is the sword dance. Contrary to romantic supposition, the historical record shows it to be a relatively modern phenomenon.
Widely distributed from the mid fifteenth century on, it has been popular at different times in towns and villages in many parts of Europe. This meticulous study surveys the history of European styles of linked sword dancing based on the evidence of primary sources in ten or more languages. This breadth of reference makes it essential reading for students of the history of European dance, popular performance and festival customs, as well as for those interested in sword dancing itself.

Traditional Step Dancing in Lakeland
by J F Flett and T M Flett

Eight Morris Dances of England and "Flamborough Sword Dance"
by Nibs Matthews

May Day in England
by Roy Judge

Cotswold Morris Dancing
Published by The Morris Federation

Introductory Bibliography on Morris Dancing
by Micheal Heaney

North West Morris Dancing
by Trefor Owen


Playing Robin Hood : The Legend As Performance in Five Centuries
by Lois Potter (editor)

©2000 Simon Pipe, Mark Rogers, The Outside Capering Crew